Plenary presenters
Soleil Lithman, M.A.
Soleil is one of the core organizers of AUM 2013 and author of Inlighten the Body: The Hladina Method. She met the Mother in 1971 and immediately began having lucid dreams with the Mother and learning about healing. She worked in the Sri Aurobindo Ashram physical therapy clinic, in the Matrimandir Gardens, and on construction of the Matrimandir. She also assisted with Peacetrees in Auroville and Washington, DC. In 2002 Soleil founded the Hladina Method, which incorporates a master's degree in transpersonal counseling psychology from JFK University, her own experiences within the Integral Yoga, and everything she learned through the Mother. Since 2004 she has taught many Hladina courses in Auroville, India, Europe, Canada, Colombia, and the USA. Soleil was born to American parents living in Saudi Arabia. She traveled through the world with her family and always experienced herself as a global citizen. Since 2011 Soleil has assisted her husband Wolfgang Schmidt-Reinecke in giving Soul of Nations workshops in six countries to people representing more than 16 nations. www.inlightenthebody.com
Wolfgang J. Schmidt-Reinecke, M.A.


Wolfgang is one of the core organizers of AUM 2013. He lived and worked in Germany until he was called to Sri Aurobindo and Auroville in 1972. He met Mother at one of her last darshans in 1973. Afterwards he studied journalism, anthropology and history at Freie Universität Berlin. He traveled extensively and worked in Western and Eastern Europe, Africa, and India as freelance journalist (print and video documentary). He also acted as a manager and executive editor for relief organizations and magazines. He was executive chairman of Auroville International Germany for fourteen years and chairman and executive director of Auroville International for four years. Since 2006 he has lived in Ashland, Oregon, with his wife, Soleil Lithman. He and Soleil created the Soul of Nations workshop, which they have given on three continents and in Auroville. In 2013 the German version of his book Fulfilling True Nationality for a New Global Consciousness will be released (English version envisioned for 2014). www.sunwolfcreations.com
Pat McCabe (Woman Stands Shining)

Pat is a 26-year resident of Taos, New Mexico, and a member of the Dineh (Navajo) Nation. Born in Gallup, New Mexico, she was educated at Stanford University, on the Navajo Reservation, and at the Phillips Exeter Academy in New Hampshire. She completed her bachelor's degree at the University of New Mexico. Her personal journey to reconnect with her lineage has afforded her unique insight into cultural patterns of Indigenous peoples in the U.S. and in other nations. She has attended gatherings in Bali, Mexico City, India, Peru, Ecuador, Chile and the U.S. that explore cultural issues facing Indigenous Peoples as well as the global community's rising concern around sustainability. Her work serves to bridge scientific and academic ways of knowing with traditional ways of knowing and Indigenous spiritual practice. She hopes her work can help to bring about global healing and foster a commitment to planetary well-being and the re-membering of joyous and harmonious existence for all life on Mother Earth.
David West, M.A.

David is the Native American Studies coordinator and director at Southern Oregon University (SOU). He serves as an advisor to the Native American student body and is faculty advisor for the Native American Student Union on the SOU campus. He teaches the core courses in Native American Studies at SOU, offering insight into both the historical perspectives as well contemporary Native American issues. His advocacy efforts for Native American Indian education in Oregon is evidenced by the success of Konaway Nika Tillicum, a residential Native American youth summer academy held on the university campus, of which he is program director. This academy is a stand-alone unique model program in Oregon and the West Coast. David is a member of the Oregon Indian Education Association, the National Indian Education Association, and the National Congress of American Indians and serves as the institutional representative for the southern region with the Oregon Indian Coalition on Post-Secondary Education. He is from the Citizen Potawatomi, Miami, and Kickapoo Nations. www.sou.edu/natam/dwest.html
Ashesh Joshi

Born in India, Ashesh engaged himself in spiritual reading and contemplation from a young age, but coming in contact with the books of Sri Aurobindo and the Mother truly changed him. One day while reading, he had a profound experience that instilled in him a deep love for the Mother, after which he could never doubt her presence. This eventually led him to join the Sri Aurobindo Ashram in Pondicherry in 1987. Twenty years later, trusting his inner feelings and with an aspiration to share his experience, he moved to Auroville. Assisted by his wife Vera Lipen, he gives weekly Inner Work workshops at Savitri Bhavan, introducing Sri Aurobindo's yoga and its various facets. He has given more than 130 workshops to seekers from all over the world. Recently he has offered workshops in several European countries, including presentations at AVI centers. His dream is to work towards making the works of Sri Aurobindo and the Mother accessible to all.  www.integralyoga-auroville.com
Michael Miovic, M.D.
Michael is a general adult psychiatrist specializing in the care of cancer patients, and a longtime student of Sri Aurobindo and the Mother. He has written extensively on Integral Yoga psychology and published a collection of essays, short stories, poems, and other creative writings titled Initiation. His primary interest now is to develop a geo-spiritual understanding of the Earth based on Sri Aurobindo's vision of "the seven jewel centers of the Earth Mother," which holds that the Earth has centers of consciousness analogous to the chakras of the human being, and these influence the evolution of all life on the planet. Michael currently resides near Minneapolis, Minnesota.
B (William Sullivan)
B joined Auroville in 1974. He is miraculously still at it after the pioneer phase as one of the founders of the Verite Community, the Centre for Scientific Research, Quiet Healing Centre, and Auroville Today journal. Currently he is a guide at Matrimandir, a teacher at Future School, and a caretaker at International House, among other interests. As the chairman of Zero Waste Auroville, he advocates for cycling and recycling. As a member of the Coordination Group for the International Zone, he participated in the Soul of Nations workshop last year in Auroville and is enthusiastic for this year's workshop in Ashland.
Nadaka and Gopika
Nadaka is Canadian and has been living in India since 1974. His love and passion of Indian culture led him to study its music and learn different Indian instruments and styles. He conceived and crafted a unique instrument of his own, a guitar he likes to call the "geet-taar" (singing strings) and that is specially designed to play the subtle tones of Indian music. Nadaka has toured with many acclaimed Indian musicians and has a number of successful albums to his credit. Inspired by Indian ragas and rhythms, he carries us through his unique musical world that is both modern and rich in tradition. www.nadaka.com
Gopika was born in Mumbai and grew up in an artistic environment mingling with many of India's great artists and musicians. A singer, painter, and photographer, she progressively discovered a spiritual dimension within that led her to the Sri Aurobindo Ashram and Auroville. She studied Sanskrit mantras in their original ancient form at the Krishnamacharya Yoga Mandiram in Chennai. Her voice carries a refined and soulful quality that reflects her seeking spirit. She teaches Vedic chanting, performs, and offers regular workshops in India and other countries. She is currently pursuing a graduate program in applied craft and design at the Pacific Northwest College of Art in Portland, Oregon. www.gopika.com
Breakout presenters and panelists
Raina Imig

Raina was born in India to a family of atheistic intellectuals, with parents from two different minority communities. While growing up in Europe and India, she had spontaneous experiences of other realities. She first read of Auroville when she was 14. Inspired by Sri Aurobindo and the Mother, at age 20 Raina had a major vision of oneness which led her to join Auroville. She lived there for five years and was involved in education and art, while contributing to the early stages of the gardens and the Matrimandir. Since 1983, Raina has lived in Portland, Oregon, making regular extended visits to India. She has a son and a daughter, Arya and Veda Mira. A visionary artist, Raina teaches hospitalized children as an Artist in Healthcare specialist. She holds workshops on the mandala and various other sacred arts for people of all ages. Many years a Reiki master, with training in Bach flower remedies and core shamanism, Raina has a compassionate shamanic healing practice in Portland and India
Julian Lines

Julian spent the summer of 1972 in upstate New York with Bob and Deborah Lawlor, Marjorie Spalding, Robert McDermott, Admiral Rutledge Tompkins, Professor Jehangir Chubb, and others learning about Auroville and Integral Yoga. He has been involved in helping Auroville ever since. In 2009 he was appointed to the Auroville International Advisory Council by the Government of India. Currently he serves as an executive director of Auroville International and president of Matagiri Sri Aurobindo Center. He and his wife Wendy own a retail shop called Pondicherry in Woodstock, New York, that features Auroville handicrafts. He is also part of the team dealing with daily operations of Auroville International USA, focusing on the eVolve newsletter and other work related to Auroville.
Vera Lipen

Vera Lipen was born in 1973 in Minsk, Belarus. In 1993 she moved to Russia, where she worked in Moscow as a translator. Soon she came to know of Sri Aurobindo and the Mother and felt a deep resonance with them; later she took up translating their books into Russian. In 2005 she visited the Sri Aurobindo Ashram in Pondicherry, where she helped organize an exhibition on Russia and met her future partner Ashesh Joshi. She also visited Auroville and worked on the Matrimandir. In April 2007 she joined Auroville with her husband Ashesh and introduced Russian Singing Bells. She gives regular performances in the Ashram and Auroville and holds weekly open sessions in Auroville, inviting the audience to play with her. The sound of the bells brings one near to the original sounds and has a universal quality. She also gives service at the Matrimandir, assists her husband during his Inner Work workshops, and works on a project to manifest the Russian Pavilion in Auroville.
www.integralyoga-auroville.com/Insights/By/VeraLipen.php
Barbara Shor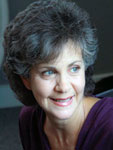 Barbara graduated as a veterinarian from Colorado State University in 1983 and completed a three-year residency in nondomestic animal medicine at the University of California, Davis and the California Department of Fish and Game. She spent a year working with wildlife in East Africa and since then has worked as an animal communicator. She has had training and experience in holistic veterinary medicine, dog training, and animal behavior and has traveled extensively both in the U.S. and abroad. Her broad base of experience with animals equips her to relate to animals spiritually, physically, mentally, psychologically, and emotionally. Working with dying animals while offering support to people has been a particular area of interest and passion for her. She is now working on her second book, called Cat Woman Speaks: A Veterinarian's Journey into the Hearts and Souls of Animals.
Sue Valentine
I have always loved dance and looking at the cellular consciousness to see what its messages are. Over the last 40 years I have taught ballet, jazz, and modern dance. But I fell in love with yoga 12 years ago, and yoga is my main focus these days. I  incorporate all that I have learned through body awareness and accupressure into my classes. In addition to teaching, I have been giving private aura readings and clearings for the last 10 years. I am especially excited to offer yoga classes at this AUM, as the Mother focused so much on the body's evolution.
Bryan Walton

Bryan was approved by the Mother as a resident of Auroville in 1972. There he helped start Fraternity, a handicraft training and employment project that benefited hundreds of villagers, including children. In 1980 he left Auroville with his wife Fanou and their two Auroville-born children. They settled in rural Wisconsin near Spring Green and became part of the Willow Gold/Global View community. Bryan works summer and fall part-time as a docent at Taliesin Preservation, giving tours of Frank Lloyd Wright's home, studio, theater, and estate. Bryan and Fanou cherish many deep friendships in Auroville and are excited about the growth and progress they see. They feel connected there and have recently been visiting every couple of years. They believe that the Mother's vision is indeed being realized