Welcome to Collaboration.org
Collaboration.org is a website devoted to the knowledge, practice, and community of Integral Yoga in America. It is hosted by the Sri Aurobindo Association (SAA) of America, a nonprofit, tax-exempt organization whose purpose is to be of service to groups and individuals devoted to the realization of the spiritual vision of Sri Aurobindo and the Mother.

Photos and videos from AUM 2016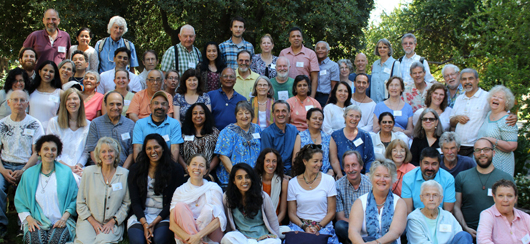 Photos of AUM 2016 and videos of conference presentations and performances are available here.
Thanks to all the attendees, participants, and volunteers who made AUM 2016 a wonderful experience for "Deepening Our Practice, Individual and Collective"!


See us on Facebook
Sri Aurobindo Association in the news
SAA was recently featured in this newsletter of the Foundation for World Education.
Sri Aurobindo
"What we propose in our yoga is nothing less than to break up the whole formation of our past and present which makes up the ordinary material and mental man and to create a new center of attention and a new universe of activities in ourselves which shall constitute a divine humanity or a superhuman nature …"
—Sri Aurobindo, The Synthesis of Yoga, p. 66
"Sri Aurobindo came to tell the world of the beauty of the future that must be realised. He came to give not a hope but a certitude of the splendor towards which the world moves. The world is not an unfortunate accident, it is a marvel which moves towards its expression. The world needs the certitude of the beauty of the future. And Sri Aurobindo has given that assurance."
—The Mother,
Collected Works of the Mother, Vol. 13, p. 15