Robert Orton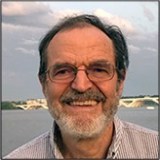 Robert Orton is a member of the Sri Aurobindo Association's Proofreading Group for Collaboration, a journal of Integral Yoga.
Once a librarian in England, Robert traveled overland to India in 1969. He first heard of the Mother and Sri Aurobindo from Sadhu Sri Loncontirth, whom he met in the Sikh Golden Temple in Amritsar. They made the journey to Pondicherry together in 1970.
Robert stayed four years in the Sri Aurobindo Ashram and had darshan of the Mother. Later he lived for several years in Auroville, working in publications and on the Matrimandir. In the late 80s he moved to the U.S. with Martha Orton and started a small business of hand bookbinding and paper conservation.