Karun Das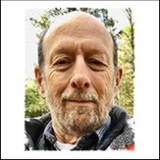 Karun Das (Will Moss) is a member of the Sri Aurobindo Association's Editorial Advisory Board.
Karun Das was introduced to Sri Aurobindo and Mother in 1970 by Mickey Finn in Boston. Active in the Boston Sri Aurobindo Center, he has supported the construction of Matrimandir in Auroville and participated in many AUM Integral Yoga conferences, beginning with the first two in New Hampshire.
Invited onto the board of the Sri Aurobindo Association in 1991, he became president two years later and helped to organize presentations for the 1993 World Parliament of Religions in Chicago. He was one of the co-founders both of the email discussion group Auroconf, for which he was a moderator until the 2010s, and Miraura.org, the first Integral Yoga website in the world. In 2018 he moved to western Massachusetts to be close to his teacher GurujiMa, who has been instrumental in furthering his yogic sadhana.