Presenter
Pravir Malik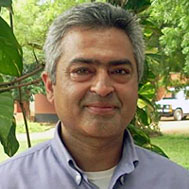 Pravir Malik has more than 20 years of experience in the field of organizational development. In particular, he has a great deal of experience in in-depth analyses, modeling, synthesis, and development of a fractal model and mathematics for organizations.
He is a founding member of A.T. Kearney, India and served as managing director of advisory services for Business for Social Responsibility, a leading global corporate social responsibility consulting company. He was intent architect with Conner Partners, served on the human resources leadership team of Stanford Hospital and Clinics, and was a professor at the Sri Aurobindo International Centre of Education.
Pravir has an MBA degree from J.L. Kellogg Graduate School of Management at Northwestern University, Chicago; an MS degree in computer science from the University of Florida, Gainesville; and a BS degree in computer engineering from Case Western Reserve University, Cleveland.
Savitri: A Preliminary Exploration for a Mathematical Basis of Harmony—I
It has been reported that the Mother has said that Sri Aurobindo "has crammed the whole universe in Savitri." In this talk we will seek to un-cram or un-pack just a little from some selected cantos—"The Secret Knowledge," "The Vision and the Boon," and "The Everlasting Day"—to begin to explore a mathematical basis of harmony.
Developing a Mathematics of Harmony—II
Building off some cantos in Savitri, this session will begin to explore aspects of the creative force and its manifestation in mathematical terms. Equations for the uniqueness of organizations, and the implicit creativity inherent in every organization, will be derived, and the vast significance of these on the unfolding of events around us contemplated.