AUM 2000
July 5-9
Trinity Conference Center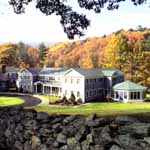 The AUM in 2000 took place at the Trinity Conference Center, just 2-1/4 hours from New York City in West Cornwall, Connecticut, from July 5-9, 2000. The center has extensive recreational facilities, and the accomodations and setting are superb. Detailed directions are available on the Trinity web site.
The AUM 2000 Conference was entitled The Bridge, and refers to breadth of Sri Aurobindo's vision and how it can be a bridge to the future. It also refers to the communion of all spiritual paths and how we can communicate about what is most essential, bridging the differences.
Trinity Conference Center is located 100 miles north of New York City on the outskirts of the tiny village of West Cornwall, Connecticut, on the banks of the Housatonic River. This is Litchfield County and referred to as the northwest corner of Connecticut. It is sublimely beautiful and ecologically pure and clean. The village is a five-minute walk from the conference center, where you can find three restaurants, a bookshop, a post office, and a few shops. There is central air conditioning in the center for the conference. Excursions planned include group walking tours on the Appalachian Trail, canoe rides down the river (extra charge), garden tour in Cornwall, ultimate frisbee, tennis and swimming.