June 21–24, 2012


Shutesbury, MA

"Auroville wants to be a universal town where men and women of all countries are able to live in peace and progressive harmony above all creeds, all politics, and all nationalities. The purpose of Auroville is to realise human unity." — The Mother

Theme: "Roots and branches"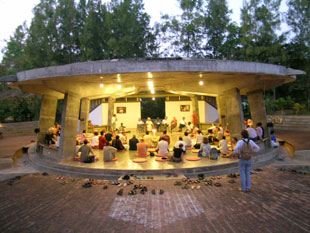 An Auroville community meeting

This year's All USA Meeting (AUM), a gathering of friends around the vision of Sri Aurobindo and Mother, focuses on Auroville and student exchange.
The roots are Auroville and its vision, the branches are the Auroville International organizations throughout the world, and the living nourishment is the flow of visitors and Aurovilians back and forth who have or grow into a deeper connection.
Program
The gathering will be experiential and include Awareness Through the Body, hatha yoga, and pranayama as well as panel discussions (including Skyped-in speakers).
Presenters, panelists, and workshop leaders include:

Carel Thieme, Editor of Auroville Today
Priya Sundarvalli, writer and potter
Bindu Mohanty, California Institute for Integral Studies and Living Routes
Aloka Marti, cofounder of Awareness Through the Body
Daniel Greenberg, founder of Living Routes
Michael Miovic, psychiatrist and author
Yoga teachers: Wendy Lines, John Schlorhotz, and Suzanne MacDonald
Hosts
AUM 2012 is being hosted by Matagiri Sri Aurobindo Center in Mt. Tremper, NY, and Living Routes, an organization based in Amherst, MA. For years, Living Routes has facilitated young people in the Auroville experience and supervised volunteer work throughout the community for college credit.
Conference site
AUM 2012 will take place at Sirius Community retreat center, 72 Baker Road, Shutesbury, MA (about seven miles northeast of Amherst).
Sirius an intentional community devoted to spiritual, ecological, and communitarian principles. Sirius members have a long connection with Auroville and Findhorn, and Auroville exchange students helped work on the Sirius main hall.
Sirius offers conference center facilities, guest accommodations, free wi-fi, hiking trails, and delicious meals made from organic vegetarian ingredients (many of which are grown onsite in gardens, orchards, and a greenhouse).
| | |
| --- | --- |
| Sirius greenhouse | Meeting room |
| Guest room | Dining room |
Rates
Per-person rates for three days including vegetarian meals:
Commuters (includes lunch and dinner):

$150

Camping on site (bring your own equipment):

$240

$340

$420

*Private rooms will be in U Mass dorms, 10 minutes away. Four private rooms share two baths. If you require a private room with a private bath, please check out local motels and B&Bs in Amherst.
Housing at Sirius is limited. Rooms will be allocated in the order checks are received. Donations to Matagiri in support of the AUM are needed and welcome and are tax deductible.
Scholarships are available. Please contact us if you wish to apply.
Registration
Please pay by check payable to Matagiri and mail to: Matagiri, P.O. Box 676, Woodstock NY 12498.
PLEASE SEND YOUR CHECKS BY MAY 15.
When you send your check, please answer these questions by postal mail or email:
Names of those attending:
Arrival and departure times: :
Details of transportation including flight numbers
(and if driving, whether you have room for passengers):
Email, snail mail, cell phone: :
Travel
Make your travel plans now for arrival on the afternoon of Thursday, June 21, and departure after lunch on Sunday, June 24.
Sirius is closest to Bradley International Airport in Hartford, CT, which often has the best prices as well. Boston, Albany, and New York City airports can also be considered (provided you plan to rent a car). Use Kayak to check airline times and prices.
We will help as much as possible to find rides and overnight accommodations on Sunday night so you can stay through Sunday lunch and fly out on Monday.
Directions to Sirius (including how to take an airport shuttle) are at http://www.siriuscommunity.org/directions.html .
For more information
Questions? Call Julian and Wendy Lines at (845) 679-5358 or email info@matagiri.org.
AUM 2012 flyer (PDF)