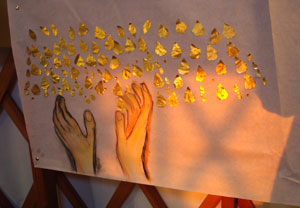 Art created by Anu Ahluwalia at AUM 2011.
Photo: Lynda Lester
The All USA Meeting (AUM) 2011 conference was held June 30-July 4, in Lodi, California, hosted by Sri Aurobindo Sadhana Peetham. The theme was "A new world is born."
Photos
AUM 2011 — a collection of representative photos from 10 different AUM 2011 photographers, posted by the Sri Aurobindo Association


Community photos — photos posted by community members of Sri Aurobindo Sadhana Peetham


Individual collections — individual photo collections from AUM 2011, posted by the Beatitude Project
Audio and video
Thanks to Vishnu Eschner, Hans Olaf Dietze, and the AUM 2011 audiovisual team for capturing audio and video recordings of presenters, workshops, and events at the conference.
A nine-minute video overview of AUM 2011 is available from Hans Olaf Dietze:
Additional audiovisual materials are being posted at the Beatitude Project and will also be available from this page. Stay tuned!
Slides
Partial clips from Margaret Phanes' multimedia presentation, "The awakening of the psychic being," are available on her website:
Written materials
Reports on AUM 2011 will be published in the next issue of Collaboration and will also be available from this page. Stay tuned!