AUM by year:


AUM 2006

AUM 2004

AUM 2003

AUM 1994

AUM 1992
AUM 1991
AUM 1990
AUM 1989
AUM 1988
AUM 1987
AUM 1986
AUM 1985
AUM Integral Yoga Conference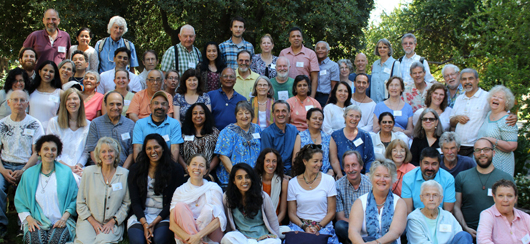 AUM 2016 in Lodi, California

AUM 2018 will be in New York state, hosted by Matagiri.
AUM 2017 was held in Amherst, Massachusetts..

The All USA Meeting (AUM) is an annual conference for people interested in:
Consciousness, evolution, and the future of humanity
The practice of Integral Yoga
The vision of Sri Aurobindo and the Mother
The sustainable international community of Auroville
AUM conferences have been taking place since 1985, when the first one was held in Greenville, New Hampshire. AUM occurs in a different U.S. location each year, hosted by a different team of volunteers.
The most recent AUM was held in 2016 in Lodi, California. See photos and videos
For the latest AUM updates, see us on Facebook.
Why people come: People come to AUM for various reasons — to network with others on the evolutionary path, to experience a deeper reality, to widen their understanding of Integral Yoga, and more. Many feel a spiritual atmosphere at AUM that is helpful for individual and collective progress.

About Integral Yoga, Sri Aurobindo, the Mother, and Auroville

Integral Yoga: The aim of Integral Yoga is an inner self-development by which the individual can discover the one self in all and evolve a spiritual and supramental consciousness that will transform and divinize earth nature.
Sri Aurobindo's teaching • Wikipedia

Sri Aurobindo, one of the foremost Indian philosophers of the 20th century, was a political activist, poet, cultural commentator, mystic, and spiritual leader. He mastered 11 languages and was nominated for the 1950 Nobel Prize in literature. His teachings synthesize the rational clarity and impulse toward material perfection of the West, the profound spiritual wisdom of the East, and a new vision for a supramental life on earth.
Biography • Wikipedia

The Mother, also known as Mirra Alfassa, worked with Sri Aurobindo for the manifestation of a mode of consciousness beyond mind, which Sri Aurobindo called the supermind. After Sri Aurobindo's passing, the Mother continued his work of psychological and physical transformation. An account of her experiences is given in Mother's Agenda. In 1952 she established the Sri Aurobindo International Centre of Education, and in 1968 she founded Auroville, the City of Human Unity.
Biography • Wikipedia

Auroville is a universal township-in-the-making for a population of up to 50,000 people from around the world. The purpose of Auroville is to realize human unity in diversity. Auroville is an internationally endorsed, ongoing experiment in human unity and transformation of consciousness. It also conducts practical research on sustainable living and the future cultural, environmental, social and spiritual needs of humanity.
Auroville home page
For the latest AUM updates, see us on
Facebook: